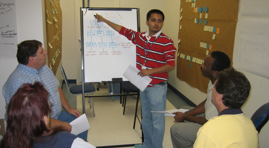 Training & Development
Developing knowledge for sustainable transformation
Achieving culture transformation in any organization begins by understanding the need for change. Many companies get infected with flavor of the month and never really understand the requirements needed to successfully develop the organization to a "can do" culture. Our transformation training and workshops help senior leadership, managers and employees determine on their own the reasons for change. The knowledge development includes the following areas:

The burning platform
The commitment challenge
What is in it for me
Recognizing opportunity
Sustaining the achievements
NuStratis, over the last two decades, has trained over 2500 individuals to become leaders and change agents in their organizations. Our training provides participants with enhanced problem-solving skills, with an emphasis on the DMAIC (Define, Measure, Analyze, Improve and Control) model. During the training you will learn how to use many of the Lean Six Sigma problem-solving methods and statistical tools to contribute to the success of your organization.
NuStratis Lean Six Sigma transformation training includes:

Lean Six Sigma overview training
Champion training
FACSim training
Kaizen master training
Lean Sensei training
Give a man a fish and you feed him for a day. Teach a man to fish and you feed him for a life time"
We too can teach you to fish and land your vision. Allow us to become your strategic partner!