Capabilities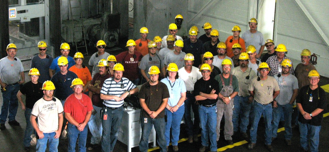 At NuStratis, we are about focusing on delivering results. Our core capabilities include eliminating waste and creating value while improving business processes. NuStratis is a leader in transforming traditional organizations to efficient and effective businesses. Our transformation model and 22 years of consulting experience has enabled us to deliver measurable results. Our core capabilities include the following strategic knowledge:
Sustainability Effectiveness

We recognize that sustainability requires commitment, change of thinking and change of working culture. At NuStratis, we work with our clients to develop a sustainable strategy. It is key to sustainable improvements. The strategic plan is a critical element in providing understanding of the organization's current situation, establishing goals, and determining how to achieve them. In developing the strategy, the infrastructure is reviewed for transformation readiness. The organizational infrastructure helps companies organize their people, define roles of responsibility, establish authority, and brings focus to areas of opportunity. It determines how things will get done in the organization. In order to improve, change must occur. Change is never easy, but by recognizing the culture gaps, organizations can design a strategy that addresses them. Sustainment can only come by engaging employees in the transformation movement.

Knowledge Transfer

Is essential in organizational improvement. One of the benefits to our clients is transferring our improvement knowledge. In order to achieve sustainability of improvements, our clients must develop their internal knowledge and skills to support the improvement transformation. Our training program incorporates the "train the trainer" modules designed specifically to develop change agents within the organization. Our training materials are also available to our clients for their internal use.

Business Excellence

Is the application of outstanding business strategies in the organization resulting in world-class performance. Our business excellence model helps the organization establish the right business indicators to measure their progress. At NuStratis, we provide a framework in which employees and management learn to focus on a systematic way of doing things that leads to increased performance.

Value Stream Management

Promotes business effectiveness through establishing end to end processes. Localized improvements, in many cases, do not deliver overall value due to inefficiencies around them. By focusing on the end customer, we help our clients identify all of the processes associated with delivering the product or service to the end customer as it is required by them. Our goal is not to sub-optimize sections of the value stream, but to improve the entire end-to-end operation. Here is where you find the greatest benefit; not just to the organization, but also to the end customer.