Consulting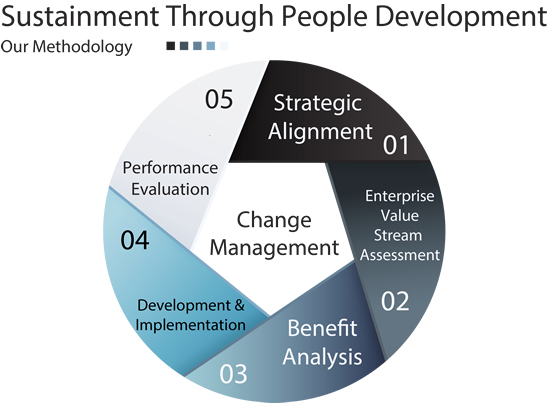 A Bright Future Today!
NuStratis has gained the trust of its clients by delivering measurable and sustainable results for the last 22 years. Our approach is simple and straightforward. People are the greatest asset to any organization. Through gaining the trust and respect of employees, sustainable improvements are possible. At NuStratis, we make change management a major part of our improvement approach. Understanding personality traits is a key element in leveraging faster deployments, less setbacks and sustainable results.
Our transformation model is a result of over two decades of industry experience and collaboration with field experts to achieve a proven method that you, our client, will benefit from it. Hear what our clients have to say.
We believe that with our extensive knowledge of process improvement and diversify industry background, we make an ideal strategic partner to any organization that is looking to make meaningful gains and sustainable improvements.
Our deployment skills range from coaching and mentoring CEO's to leading improvement activities with hourly employees. We believe a consultancy is only as good as the results it delivers, and those results are only as good as the teams who make them happen. Our team is made up of consultants with an average of over 15 years experience.
NuStratis will help you stay on course and develop your internal expertise to achieve the long-term vision of your organization. You can count on it!
Strategy
While some variations exist, most in the strategic planning field essentially consider strategy to be the specific plans developed to meet the organization's mission and goals. At NuStratis, we define it as: "The competitive moves and business approaches devised to produce successful business performance." Together with our clients leadership, we segment the strategy into the following phases:
Formulation - This phase develops the specific objectives and action plans to accomplish the goals. This stage defines WHAT the firm should do. Implementation - This phase specifies HOW the firm will accomplish the strategic plan developed in the formulation phase. Control and evaluation - This phase represents an on-going measurement and evaluation of the actions with respect to the objectives developed during the formulation phase. In addition, constant monitoring of the environment and evaluation of environmental activity against the original formulation should provide valuable insight into necessary modifications or reformulations.
The strategy must not only be well developed, but effectively implemented. There have been far too many examples in the past of companies developing what appeared to be a great strategy, only to find themselves seriously disappointed in the results. In most of those cases these companies thought the job was essentially complete once the strategy was developed, and they paid little attention to implementation and control. Proper implementation is an essential part of strategic management, and often given far too little attention. With effective strategy, it is critical to both develop specific deployment plans to implement the strategy. It is also equally important to develop both organization structures to effectively support the strategy and specific measures to reinforce the actions.
Sample Tool Set:
Market Analysis
SWOT Analysis
PEST Analysis
Order Qualifiers vs. Order Winners
Hoshin Kanri Policy Deployment
At NuStratis, we know that time is a critical element in the formulation, implementation, control, and evaluation of any strategic plan. This is why our skilled consultants will work with all levels of the organization to make sure the culture and infrastructure is ready to move forward.
Let us help you drive your vision TODAY!
Assessments
During the last two decades, NuStratis consultants have worked with our clients in assessing opportunities throughout the organization. Our philosophy in assessing organizations is based on the idea that business areas depend on each other to successfully accomplish their tasks. For this reason, we look at the organization holistically and not in fragments. The ultimate goals is to identify the gaps, whatever they are, and size the opportunity or business impact.There is a great benefit to a systematic, impartial and unbiased review of an organization. At NuStratis, we utilize assessment tools to provide agreements within the business based on actual data and facts not opinions.Our Assessment, in general, include the following elements:
Systems
Operations
Organization
Methods
Strategies
The deliverables of our assessments will include business performance, identification of gaps - areas for improvement, and recommendation strategies to address the gaps. NuStratis' clients will benefit from our involvement through identification and sizing of potential profit improvement, revenue enhancement, and cost reduction opportunities. The assessment will provide an objective, independent evaluation of the business.
Sample Tool Set:
Operational Assessment
Financial Assessment
Supplier Evaluation
Inventory Evaluation
Product Quality
Business Metrics
Call today to schedule a business assessment.
It could be the most important call for your business!
Operational Excellence
From the very beginning, NuStratis core strength has been improving businesses one process at a time. What separate us from our competition is the fact that we will not get engaged in projects unless we know we will be able to help our client. Delivering value is part of who we are. So feel sure we will make success happen for you!Our approach to operational excellence is by working with our clients to develop a set of standards the entire organization will be committed to. At NuStratis, Operational Excellence is about doing everything to the best of our ability. This includes senior leadership, the technician lubricating the equipment, the customer service representative talking to the customer, the clerk opening the mail, everyone in the organization. It also means making hard decisions when we know it is the right thing to do. Operational Excellence is not easy to accomplish but commitment to the cause will achieve it. We have come to the conclusion, after working with over 50 clients, that making the improvements is not the challenge but getting the employees to see the benefits. Sustaining the improvements, in our opinion, will be the hardest thing any company will have to do. At NuStratis, we strive to build relationships with people first. We want to establish a trust factor. We know employees have the greatest knowledge about improving processes. Our job is to utilize simple but effective lean six sigma tools to translate employees' ideas to improvements and improvements to sustainable bottom line results.Employees are the biggest asset to any organization" Without them, we can't improve or change the organization.
Sample Tool Set:
Value Stream Mapping
Demand Flow
Error Proofing
Standard Work
Quick Change
Visual Factory
Kaizen Workshops
We have the knowledge, experience, and proven record to take your organization to the next level. Contact us for more information.
Change Management
In order for a company to maintain its competitive advantage, they must continually be improving to meet customer's demanding needs. At NuStratis, we understand a vital component of improving is the willingness and readiness for change of its leaders and employees. That is why our transformation model incorporates assessing personality profiles, so the organization can be prepared for addressing the different ways employees embrace change. We recognize the importance of a company's vision, but more importantly, we recognize the importance of the people who are responsible for making that vision a reality.

By understating employees' personality profiles, our consultants will work with management to develop:
Leadership Commitment
Readiness Evaluation
Culture Transformation Training
Change Agent Training
Reward & Recognition Training
Managing Change
Today's business environment changes at unprecedented speed and it has no mercy on whoever falls behind. At NuStratis, we integrate the business culture as one of the greatest competitive advantages weapons a company has and we make change a part of every day business. Change cannot fail.
Sample Tool Set:
Myers Briggs Personality Profile
Readiness Assessment
Communication Plans
Leadership Development
Change Agent Development
"Change is never easy but without it we can't improve".

We can help you transform your culture to a competitive and dynamic team. Call us today.
Video: "If Change Fails..."