Our Approach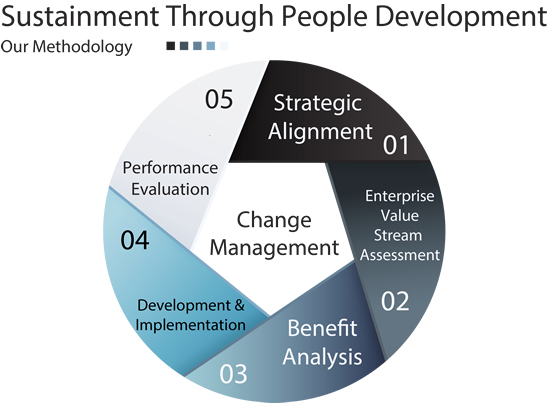 We look at the enterprise holistically in order to develop a transformation plan that incorporates the elements necessary for success. Our approach assists senior management in aligning the business' vision and direction with the organization's improvement initiatives. In any business transformation initiative, the business culture plays a critical role for success. For this reason, our methodology incorporates The Myers Briggs personality assessment. It is imperative to understand how the most valuable assets of the organization, people, will contribute to the transformation effort . The objective is to create a long-term impact by developing the knowledge and expertise necessary to sustain results.
We accomplish this by incorporating the following tools into the overall transformation plan.
Strategic Planning & Alignment
Change Management Readiness
Lean Six Sigma Strategies
Key Performance Indicators
NuStratis consultants work closely with leadership teams to develop a train the trainer program. Through this program, the organization is able to continue its continuous improvement efforts long after the NuStratis consultants have completed their work.
Our Methodology
Strategic Alignment

Our consultants, working with the organization's leadership, will translate the business plan into a policy deployment plan that incorporates specific goals, objectives, targets, actions and owners. This phase is intended to breakdown high-level directives into more defined and specific actions.

Enterprise Value Stream Assessment

Utilizing high level value stream mapping, the enterprise's current state is evaluated against the organization's strategic objectives for gaps. These gaps then represent the organization's opportunity. The purpose of this phase is to align all improvement activities with the business goals.

Benefit Analysis

In order to deliver the maximum benefit to the enterprise, cost and growth drivers are analyzed. A linkage between improvements and benefit drivers is established. Understanding the key elements required in order to gain a competitive advantage becomes a critical element to successfully becoming the preferred supplier.

Deployment & Implementation

A critical factor to a successful transformation is the ability to develop the "Breakthrough Thinking" within the organization. This paradigm shift can only occur by engaging the entire organization. The Breakthrough Thinking is developed by building internal change agents, educating, employee involvement, and measuring key indicators. Throughout this phase, strategic objectives and improvement activities are always kept in sync to insure complete alignment.

Performance Evaluation

Creating the infrastructure to monitor and measure progress is an essential component of long-term success. The infrastructure is developed by creating a reporting mechanism while at the same time keeping the strategic deliverables aligned.